Broadway Oyster Bar
736 S Broadway Saint Louis, MO 63102
(314) 621-8811
11:00 AM - 2:00 AM
Music, Food and Ambiance
With the wonderful ambiance of the French Quarter in New Orleans, The Broadway Oyster Bar will lure you with the best Cajun-Creole cuisine in St. Louis as voted numerous times in both the Riverfront Times and Sauce Magazine's Reader's Poll. We also offer the freshest and most reasonably priced seafood specials anywhere! We feature live music seven nights a week from the best local and national touring acts. The music ranges from New Orleans funk to blues, reggae, rock, roots and jam. See our music schedule and go to the links section to get a taste of the upcoming music.
The unique building, originally built in 1843, has historically been a welcomed retreat for weary travelers. Now a great party spot, with live music nightly, the cozy restaurant and the open air patio (enclosed and heated during winter months) are reminiscent of life in the "Big Easy". The Broadway Oyster Bar offers great food, music and fun in a N'Orleans style unlike any other in St. Louis.
"There are those who 'can't stay away' from this tiny, 'down and dirty' downtown bar/restaurant with a 'wonderful, funky patio,' where the Cajun cuisine (i.e. crawfish, jambalaya, gumbo, oyster po' boys) is 'surprisingly good' and the 'décor is so bad that it's great.' It's a 'great local dive' that 'never changes – thank goodness.'" – Zagat, 1999
Broadway Oyster Bar: The Way It Was and The Way It Is
By Joe Pollack,
Relish: Food, Wine & Spirits in St. Louis, www.stlmag.com
Thursday, January 13, 2011 / 10:04 AM
Thirty-some years ago, when I was working and lunching downtown, a favorite spot was the grungy, tumble-down saloon known as the Broadway Oyster Bar, one of the most truthfully named places I ever patronized. After all, it was on Broadway, it served amazing oysters, and it certainly was a bar, frequented by newspaper types and others who could be considered equally grungy and tumble-down.
Dennis Connolly was in charge then, and the budget was grim enough that he hung a piece of carpet inside the front door to keep the chillest of winter winds outside. It didn't work very well, but the minuscule kitchen turned out the best oyster poor boy I've ever eaten. The secret was that the oysters were not battered and fried, but simply sautéed in butter and garlic, sometimes with some chopped green onion. The bread, hollowed out, was stuffed with the oysters and the liquid, the open end plugged with the chunk of bread that had been removed. When the sandwich was served, the juices were busily soaking through. The result was sloppy but glorious, especially for those who really like oysters and really don't care much about breading.
Fast forward a generation or a little more:
John Johnson is in charge now, an outdoor area has become a fixture on the south side of the building, and there's a real storm door. A few new posters have been nailed onto the walls, adding another layer of insulation, but the old days remain supreme, like a yellowed newspaper clipping from 1984, with my name on it. Mostly, however, it remains tumble-down and grungy, two of its finest attributes. In truth, the building is one of the oldest in St. Louis, site of many legends; there are stories that tie most of its history to the liquor trade. It also had upstairs rooms for weary travelers and sometimes offered companionship for the lonely.
But times change; the Broadway Oyster Bar has more kitchen space for chef Brad Hagan, along with a slightly expanded menu. Johnson has instituted festivals. A crayfish boil has been quite popular. In December, he had a Po' Boy (his spelling) Festival that offered nine different kinds of sandwiches including – shudder – a Thanksgiving po' boy that packed the entire traditional dinner onto a baguette, including roasted turkey, sausage stuffing, gravy, cranberry sauce and pepper mayo. It was quite a mouthful, but every part of dinner, except Uncle Charley's annual tales about his Marine Corps adventures in World War II, could be experienced in a single bite, and no one has listened to Charley since 1955.
If the Thanksgiving sandwich is an example of the Kitchen Sink school of po' boy ingredients, a companion is the Pot Roast po' boy, which included pulled pot roast, mashed potatoes, onions, carrots, celery and gravy. Roast beef, certainly related to pot roast, arrived with gravy that added sour cream, garlic, and horseradish to the beef, then was topped with caramelized onions, lettuce, tomato, red onion, pickle, and pepper mayo.
By the way, Johnson brought the authentic Leidenheimer bread from New Orleans, which certainly added splendid texture and flying crumbs to the event.
We believe that po' boys are best with seafood, but we made an exception for the Hot Andouille Sausage po' boy, which showed community with The Hill in that it combined sausage, peppers, and onions with the other fixin's, and added Monterey Jack cheese's wealthy cousin, "Monetary Jack," as the menu described it. That one was extremely tasty, with a nicely fiery pop from the sausage a fine companion to the onions and peppers (sweet ones).
We sampled several seafood po' boys, too, including BBQ Shrimp, with tasty shrimp soaking in the traditional Worcester sauce, butter, and cream. Perhaps not up to the classic from Pascal's Manale in New Orleans, but a worthy disciple. Shrimp also showed up on the NOLA sandwich with fried green tomatoes, house-made remoulade sauce, lettuce, onion, and pickle.
Deep-fried soft shell crab, always a favorite, was a delicious sandwich, the crab crisp outside, juicy inside, and topped with the same ingredients that arrive when you order a po' boy "dressed," meaning lettuce, tomato, pickle, and mayo. Marinated, fried alligator chunks, with remoulade sauce and blackened redfish completed the selections, though when we learned that the old-fashioned, sautéed oyster po' boy is available on request, we requested and oh, boy! was it superb.
Johnson said he was satisfied with attendance at the inaugural po' boy festival, and plans to repeat it, but not necessarily in December. "I'd like to have one every month," he says, "except in February, when Mardi Gras is all the festival we need."
Copyright 2011 St. Louis Magazine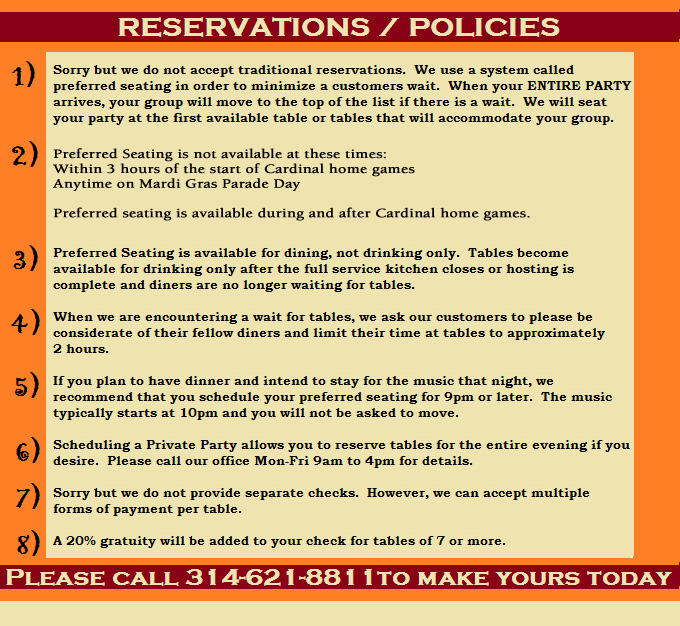 Join Us On the BEST Patio in St. Louis!
Where should you go before or after a Cardinals game? You got it, the Broadway Oyster Bar.
Where else in St. Louis can you find live music seven nights a week on an outside patio?
Our patio is open for lunch and dinner. Sit outside and relax while enjoying some of the best music in St. Louis.
Once winter sets in, the patio is enclosed and heated so you can still enjoy your favorite open air patio during the cooler months.

Having a party?
Broadway Oyster Bar is your place for either on-site or off-site catering. Whether it's a birthday, anniversary, company function, or wedding, we can help make your event a success.
Try something a little more fun and unique. We work with you and can accommodate non-Creole/Cajun lovers. You set the menu, we do the work!
For pricing and more details, contact one of our managers at 314-621-8811, Monday – Friday between the hours of 10am – 4pm.
Interested in free baseball tickets?
The Broadway Oyster Bar has them!
Here's how it works…
Join us before every home baseball game for St. Louis' finest Cajun Creole cuisine and the coldest beer in St. Louis on our outdoor patio, voted the last 2 years by CitiSearch as St. Louis best outdoor dining venue. It's that easy!
We hand out raffle tickets beginning 2 hours before every home game. 45 minutes before game time, we announce the winner. If your ticket is selected, you win 2 tickets to the next home game.
What better place can you find to enjoy good food, cold drinks and free Baseball tickets located directly behind home plate? The Broadway Oyster Bar. So come early and get your chance at tickets to see the Cardinals at the new sold-out Busch Stadium!
Listing Information
Bar,Casual Dining,Catering,Dinner,Entertainment,Functions,Late Night,Lunch,Private Room,Wheelchair Access
Medium - $11 - $35
Yes
Accepted
No
Car Park
Accepted
Available
Available